Neck Liposuction
in Novi, Michigan
Neck liposuction in Michigan is a popular choice for those desiring a more streamlined and youthful neck profile. Choosing Illuum Cosmetic Surgery for your neck liposuction is a wise decision, especially with the expertise of our board-certified plastic surgeons, Dr. Lakin and Dr. Ozolins. Our procedure has gained recognition for effectively removing excess fat, notably in areas like under the chin and along the jawline. At Illuum Cosmetic Surgery, we're committed to boosting your self-confidence and helping you attain a more balanced facial appearance through our specialized Neck Liposuction Michigan services.
What is Neck Liposuction?
In neck liposuction, excess fat under the chin and along the jawline is removed surgically. The goal is to create a more defined, youthful, and slimmer neck profile. The procedure is often performed alongside other facial surgeries, like facelift or neck lift procedures, to achieve optimal results.
Who is a Good Candidate for Neck Lipo?
Evaluating whether you're a suitable candidate for the neck liposuction Michigan procedure is crucial, and consulting with a board-certified plastic surgeon remains the most reliable method for assessing your suitability. Here are some general guidelines to consider:

Ideal candidates are usually between the ages of 20 and 60.

Neck lipo candidates should be in good general health and free from severe medical conditions that could affect healing.

The presence of localized fat in the neck area, such as a double chin or lack of neck definition, is essential for candidacy.

Candidates should be at or near their ideal weight and have maintained this stability for at least six months before the procedure.

It's strongly advised to either be a non-smoker or be willing to cease smoking for several weeks before and after neck lipo surgery, as tobacco use can adversely affect the surgical outcome and the recovery process.
Neck Lipo Surgery Before & After
Step-by-Step Neck Liposuction Procedure
Understanding the neck liposuction procedure can help alleviate concerns and better prepare you for what to expect. Below is a step-by-step guide designed to navigate you through the process.
Pre-Procedure Preparations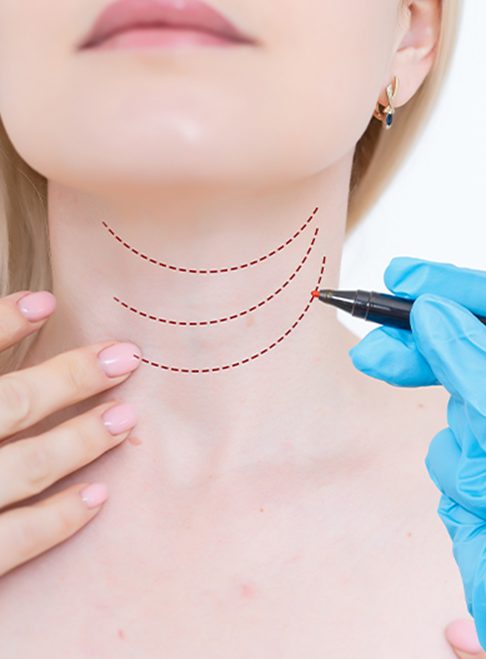 Before the day of the surgery, you'll have a consultation with our plastic surgeon to review your medical history, aesthetic goals, and any concerns you may have. You may be asked to:

Undergo certain medical tests.

Stop smoking several weeks before the procedure.

Avoid taking aspirin, anti-inflammatory drugs, and certain herbal supplements.
The procedure typically starts with the administration of anesthesia to guarantee your comfort. Depending on the scope of the neck liposuction and our surgeon's advice, you may receive local anesthesia, sedation, or general anesthesia, following either an awake or asleep method to best suit your needs.
Once the anesthesia takes effect, our surgeon will make a tiny incision under the chin or behind the ears. The size and location of the small incision will depend on the area being treated and the technique being used.
A cannula is inserted through a small incision to break up and remove the fat. Our surgeon uses advanced techniques for neck fat removal, like tumescent lipo and power-assisted liposuction. He expertly moves the cannula to dislodge the fat, which is then vacuumed out of the body.
After removing the desired amount of fat, our surgeon will close the incisions using sutures. Sometimes, the incisions are so small that they don't require sutures and heal naturally.
The entire neck lipo procedure typically takes one to two hours, depending on the complexity and amount of fat to remove. However, the duration may vary if you combine neck liposuction with other plastic surgery procedures.
Post-Procedure Care and Results
After neck liposuction, proper post-procedure care is essential for optimal results and a smooth recovery. Here are some general guidelines:
Advantages of Opting for Neck Liposuction
The price for neck lipo michigan generally falls between $2,000 and $5,000. This estimated range typically covers the surgeon's fees, anesthesia, and facility charges but may not include extra expenses like diagnostic tests or post-surgical care.
If you're looking to address excess skin in addition to fat removal, the Neck lift cost may vary. For a detailed and personalized cost assessment, consulting directly with our surgeon at Illuum Cosmetic Surgery is advisable.
Frequently Asked Questions
Whether you're seeking the expert guidance of Dr. Lakin or Dr. Ozolins, or have a clear idea of your needs, scheduling a consultation is the obvious and easy next step. Meet and sit down with one of Michigan's premier plastic surgeons and start your journey into illuminating the best version of yourself.