Breast Augmentation
in Novi, Michigan
Breast augmentation is a popular cosmetic procedure that enhances the size, shape, and symmetry of the breasts. At Illuum Cosmetic Surgery, our priority is to help you safely achieve your desired look with natural-looking results. We know that breast implant surgery is a very personal decision and involves a thorough and deliberate choice with careful consideration. Some patients come to us already having an idea of what type of implant want or how they wish to look. Others want our advice to help guide them through the implant selection process. Either way, our team, led by board-certified plastic surgeon Dr. Gregory Lakin, will work with you to listen to your goals and come up with a customized solution to help you achieve the result you are looking for!
What Is Breast Augmentation Surgery?
Breast augmentation surgery, also known as mammoplasty, involves using breast implants or fat transfer breast augmentation to increase the volume of the breasts. This can improve their appearance and boost confidence and self-esteem. Here are some reasons why a woman might undergo a breast augmentation procedure:
Types of Breast Augmentation
We specialize in primary, secondary, and revision breast augmentations. There are two main types of breast enhancement, either through breast implants or fat transfer surgery. Here's what you need to know about each option:
Breast augmentation with breast implants involves using artificial implants to increase breast size and improve the shape of the breasts. The surgery involves the placement of implants under or above the muscle, depending on the patient's goals. Often, patients opt to place the implants under the muscle. At Illuum Cosmetic Surgery, we offer two types of breast implants: saline and silicone implants.
Saline breast implants are filled with sterile salt water and are placed empty in the breast pocket. Once in place, the implant is filled with the sterile saline solution. 
One advantage of saline implants is that they can be shaped into different sizes, allowing for more breast shape and size customization. Saline implants are also less expensive than silicone gel implants.
Silicone/Gummy Bear Implants
Silicone breast implants are filled with a cohesive silicone gel that feels like natural breast tissue. Women often prefer these implants because of their natural feel and look. They come in a variety of shapes and sizes to fit each patient's individual needs. 
Gummy bear implants are silicone gel implants with a more cohesive gel filling, which helps maintain their shape over time.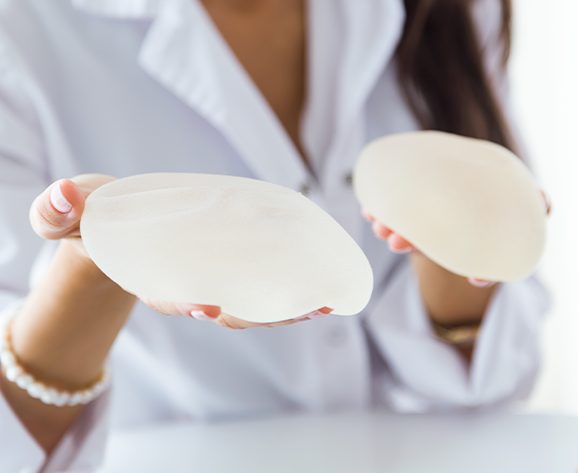 Natural breast augmentation with fat transfer is an alternative to breast augmentation with implants. This procedure involves the transfer of fat from other parts of your body to your breasts to increase their size and shape. Usually, the excess fat is removed from the abdomen, waist, back, thighs, and/or arms, and processed before being injected into the breast area. It is ideal for women who prefer a more natural approach to breast augmentation. However, candidacy for fat transfer breast augmentation can vary based on patient goals. This surgery only provides one cup size of additional volume to the breast. This surgical procedure is excellent for women looking to enhance their breasts with minimal volume.
Choosing the Right Breast Implants
Implant size and shape selection involve an in-depth process of discussing your goals, looking at different-sized implants in our office, taking measurements, and reviewing goal photos. We find it helpful for patients to look and feel different sizes and profile implants in the exam room to get an idea of how the specific implant may look and feel. We look at your starting size and shape and discuss your goal size and shape. We consider your overall body frame, height and weight measurements, breast measurements, breast size and shape, and skin quality. The final implant selected varies based on each person's unique anatomy and goals. No two women are the same size and shape starting out, nor are their goals the same, which means there are many variables to consider when selecting a breast implant. We use all implant sizes, profile shapes, and makes to provide patients with a customized solution to meet their goals and expectations.
Types of Breast Incisions for Implants
When considering breast augmentation with breast implants, it's essential to understand the different breast augmentation incisions used to place the implants. The incisions for breast implant surgery are discretely placed on the breast via short scars closed with precise multiple-layer suture placement. Here are the two main types of breast incisions for implants:
Breast Fold | Inframammary Fold
The breast fold incision, also known as the inframammary fold incision, is made along the natural crease where the breast meets the chest wall. The implant is then placed in a pocket created either above or below the chest muscle. 
The incision is well-concealed in the breast's natural crease, which results in minimal scarring. Our surgeon, Dr. Lakin, uses a multiple-layer closing technique that allows the scar to heal better and fade away faster.
Areola | Periareolar Incision
The areola incision, also known as the periareolar incision, is made around the outer edge of the areola. This incision is ideal for women who want to minimize scarring, as the incision is well-concealed within the natural border of the areola.
One advantage of this breast augmentation incision is that it allows for precise implant placement, as the plastic surgeon has direct access to the breast tissue.
Who Is a Candidate for Breast Augmentation Surgery?
A breast augmentation consultation is always recommended if you are unsure about your candidacy. Here are some factors that determine whether you are a good candidate for breast augmentation surgery:

To be a candidate for breast augmentation, you should be in good overall health. This means you should not have any underlying medical conditions that could increase your risk of complications during or after surgery. Our plastic surgeon will evaluate your medical history and perform a physical exam to determine if you are a good candidate for this procedure.

It's essential to have realistic expectations of the results of breast augmentation. While this surgery can enhance the size and shape of your breasts, it cannot make you look just like someone else. Dr. Lakin will discuss the potential risks and benefits of and help you set realistic expectations for your results.

Small or Asymmetrical Breasts or
Want to Restore Lost Breast Volume
Breast augmentation is ideal for women with asymmetrical breasts or those who want to restore lost breast volume due to weight loss, pregnancy, or aging. This surgery can also help improve the symmetry and balance of the breasts, resulting in a more proportionate and aesthetically pleasing appearance. 
At Illuum Cosmetic Surgery, our Board-Certified Plastic Surgeon, Dr. Gregory Lakin, and our team will evaluate your needs and goals to determine if you are a good candidate for breast augmentation surgery. We will work with you every step of the way to ensure that you achieve the best possible results.
What Is the Recovery Process?
Recovery is rapid; most patients can return to work within three days if they work from home or have a desk job. Otherwise, we recommend waiting one week before returning to work. We will provide you with support garments and recommend using a sports bra that opens at the front for the first month after surgery. After one month, you can get resized to wear new bras with underwires.
Swelling, Bruising, and Discomfort
Swelling, bruising, and discomfort are common after breast augmentation surgery. Dr. Lakin will prescribe pain medication and a muscle relaxant to help manage any discomfort you may experience during your recovery. It's essential to expect some discomfort during the first few days after surgery, but it should gradually improve over time.
Duration of Recovery Before Exercising
Recovery duration after breast augmentation varies from patient to patient. You should avoid strenuous activities or heavy lifting for four to six weeks after surgery to ensure proper healing.
What to Do and What Not to Do During Recovery
During your recovery, it is crucial to follow the plastic surgeon's post-operative instructions carefully to ensure optimal healing and minimize the risk of complications. 
At Illuum Cosmetic Surgery, we provide our patients with detailed post-operative instructions to ensure a smooth and comfortable recovery. We will be with you every step of the way to ensure the best possible outcome from your breast augmentation surgery.
Cost of Breast Augmentation Surgery
in Michigan
The cost of breast augmentation surgery in Michigan can vary depending on several factors, such as the type of implant, the surgical technique used, and the surgeon's experience. The general range for breast augmentation surgery ranges from $5,000 to $10,000.
At Illuum Cosmetic Surgery, we understand that cost is a vital patient consideration, so we strive to provide transparent and affordable pricing for all our services.
We offer an instant price estimator tool on our website to help patients get an idea of the potential cost of their breast augmentation. But the exact cost of the surgery will depend on each patient's unique needs. You will receive an accurate quote during your breast augmentation consultation with Dr. Lakin.
Cost should not be a barrier to achieving your aesthetic goals, which is why we offer financing options to help make breast augmentation surgery more manageable for our patients.
Breast augmentation surgery is often performed with other plastic surgery procedures to achieve more complete results.
Breast lift surgery, or mastopexy, is often performed with breast augmentation procedures to lift and reshape sagging breasts. This procedure can also help improve the overall shape and position of the breasts for a more youthful and aesthetically pleasing appearance.
This is our signature high-definition liposuction technique for highlighting the natural curvatures of the breast. This can be combined with a breast augmentation surgery to further define the breast curves. We perform liposuction in the areas surrounding the breast, including the upper abdomen, back bra rolls, upper back, and front bra rolls, to sculpt the naturally-appearing breast tissue. Combined with breast augmentation, this will increase the overall aesthetics of the final result. 
Body Contouring Surgeries
A mommy makeover combines plastic surgery procedures designed to help women restore their pre-pregnancy body shape. This procedure typically includes breast augmentation surgery, a tummy tuck, and liposuction to address issues such as sagging breasts, excess skin and fat in the abdominal area, and stubborn pockets of fat in other body areas. Learn more about our Mommy Makeover surgeries.
Liposuction is a popular plastic surgery procedure that can be performed in combination with breast augmentation surgery to remove excess fat from targeted areas of the body. This procedure can help contour and sculpt the body for a more toned and streamlined appearance. Learn more about our Liposuction and Lipo 360 surgeries.
A tummy tuck, also known as abdominoplasty, is a plastic surgery procedure that can be performed in combination with breast augmentation surgery to remove excess skin and fat from the abdominal area. This procedure can also help tighten the underlying muscles of the abdomen for a flatter, more toned midsection. Learn more about our tummy tucks surgeries.
What to Expect During the Consultation
At Illuum Cosmetic Surgery, we believe every patient is unique and requires a personalized approach to their breast augmentation surgery. During your initial consultation with Dr. Gregory Lakin, you can expect the following:
Dr. Lakin will comprehensively evaluate your overall health and medical history to determine if you are a good candidate for breast augmentation surgery. He will also examine the size and shape of your breasts, skin quality, and nipple placement to help determine the best surgical approach for you. He will also discuss the potential risks and complications associated with breast implant surgery, including breast implant illness, breast implant rupture, and breast pain.
Dr. Lakin will discuss the various options available for breast augmentation surgery, including the types of breast implants, incision locations, and surgical techniques. He will also explain the benefits and risks associated with each option to help you make an informed decision.
During your consultation, Dr. Lakin will discuss your expectations for your surgery and ensure that they are realistic and achievable. We believe that patient education and communication are essential to achieving successful outcomes for our breast augmentation patients.
Frequently Asked Questions about Breast Augmentation
Whether you're looking for Dr. Lakin's expert insight or know exactly what you're looking for, scheduling a consultation is the obvious and easy next step. Sit down with one of Michigan's premier plastic surgeons and start your journey into illuminating the best version of yourself.