Neck Lift
in Novi, Michigan
Illuum Cosmetic Surgery specializes in neck lift procedures in Novi, Michigan, aiming to restore a youthful look to the neck. Neck lifts are gaining traction for their effectiveness in tackling age-related issues, such as sagging skin, wrinkles, and double chins. Offering enduring results that boost your look and self-esteem, a neck lift could be your pathway to renewed facial elegance and confidence.
A lower rhytidectomy, commonly called a neck lift, is a surgical procedure designed to revitalize the appearance of the neck and jawline. The procedure addresses signs of aging and aesthetic concerns in the neck area, such as sagging, loose skin, and excess fat deposits, often contributing to a double chin, muscle banding or "turkey neck," wrinkles, and fine lines.
Neck Lift Surgery Before & After
Neck Lift Surgery Procedure
Our neck lift procedures are performed by our highly skilled, board-certified plastic surgeons, who ensure you achieve natural-looking, long-lasting results that enhance your overall facial aesthetics.
Pre-Operative Preparations
Before a neck lift surgery, a comprehensive medical evaluation is essential to determine your suitability for the procedure. This is followed by a consultation with one of our plastic surgeons to discuss expectations, options, and risks. Lifestyle adjustments, such as quitting smoking and avoiding certain medications, are necessary for optimal outcomes. Additionally, pre-surgery dietary guidelines may be provided. It's also advisable to arrange transportation for post-surgery and prepare your home for a comfortable recovery.
Anesthesia
Your surgery will be performed under general anesthesia at Illuum Cosmetic Surgery in our accredited surgery center.
Incisions
Our surgeon will make a small incision in front of and behind the ears to access the neck muscles and address sagging skin.
Tightening and Reshaping
We will enhance the contour of your neck and jawline by tightening the underlying muscles and removing excess skin and fat.
Closure
Once the desired effect is achieved, the incisions are closed with sutures. Sometimes, a drain may be placed to remove any excess fluids.
While the primary goal is aesthetic enhancement, the benefits of a neck lift extend beyond just physical improvements. Let's explore the various advantages of this procedure.
Ideal Candidates for a Neck Lift
An ideal candidate for a neck lift should be healthy and free from chronic conditions that could hinder surgery or recovery. Non-smokers, or those willing to quit, are preferred for optimal healing. While there is no strict age limit for undergoing a neck lift, the procedure is most commonly sought by individuals in their 40s to 60s. However, younger patients with better skin elasticity often experience more optimal results, as the skin's natural ability to bounce back contributes to the success of the surgery. Individuals bothered by loose, sagging neck skin make good candidates for a neck lift. Additionally, those struggling with excess fat deposits under the chin or around the neck, commonly leading to a double chin, can also benefit from the procedure. Moreover, if you have visible vertical bands of muscle in the neck, known as muscle banding, a neck lift can effectively smooth these out, enhancing the overall appearance of the neck.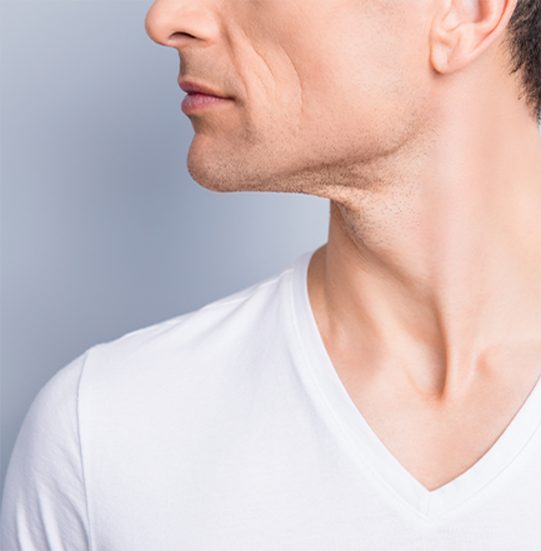 After your neck lift at Illuum Cosmetic Surgery, you'll begin your recovery in a specialized room for close monitoring. Keeping your head elevated during the first week is crucial to help reduce swelling. Individual factors and the extent of the surgery can affect the recovery time for a neck lift. Generally, most patients can return to non-strenuous activities within a week. You can expect a follow-up appointment for suture removal, which usually occurs at 7 and 14 days post-surgery, to assess your healing progress. Swelling and discomfort are common but manageable with prescribed medication.
Most patients can resume regular activities, including exercise, after 4 weeks. As swelling and bruising subside, you'll notice initial improvements within a few weeks, and the full effects of the surgery will become apparent after several months. With proper care, including skincare and lifestyle choices, these results can last up to a decade, giving you a more youthful appearance and enhanced self-esteem.
Cost of Neck Lift in Michigan
The cost of a neck lift can vary widely depending on several factors, but the average price of neck lift in Michigan ranges from $5,000 to $12,000. Additional expenses like anesthesia fees, facility fees, and post-operative care can also influence the overall price of neck lift procedures. Schedule a consultation today at Illuum Cosmetic Surgery to get a precise quote for your neck lift procedure, or click here for an instant estimate. We also offer financing options for your surgery to make the process more affordable and accessible.
Frequently Asked Questions about Neck Lift
Whether you're looking for Dr. Lakin's expert insight or know exactly what you're looking for, scheduling a consultation is the obvious and easy next step. Sit down with one of Michigan's premier plastic surgeons and start your journey into illuminating the best version of yourself.